The bastard located in via Scipio Slataper 19 in Milano is now permanently closed. We started moving on october 24th, 2020.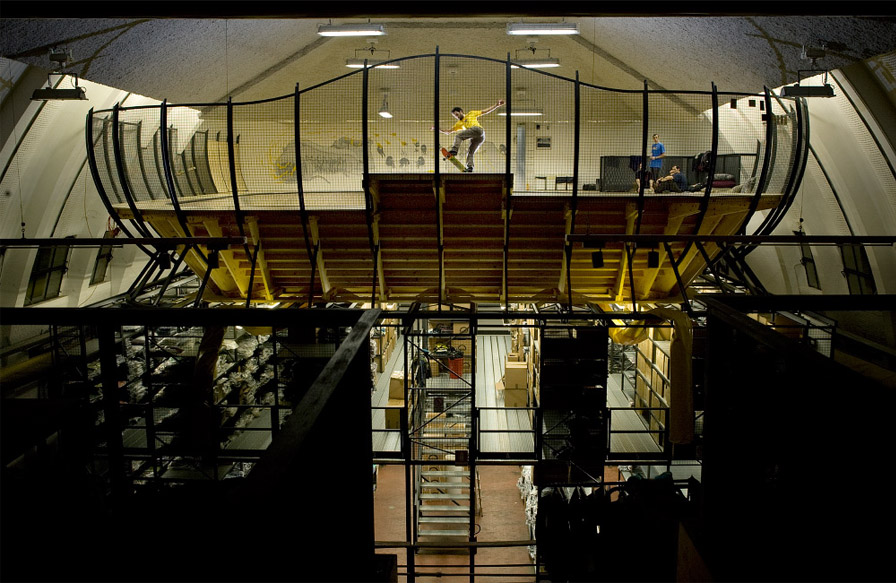 Contacts
Email: store@bastard.it
Phone: +39 02 40708037
Weblog: blog.bastard.it
Instagram: instagram.com/bastardstore
Twitter: twitter.com/bastardstore
YouTube: youtube.com/user/bastardstoremilano
The architecture of the bastard store
The transformation of the existing building - built in the 40's by Ing. Mario Cavallè - has been developed with the architecture firm studiometrico and in particular with Lorenzo Bini, who later choosed this unique space as headquarters of his new practice binocle. The project won the ArchDaily Building of The Year 2009 award in the interiors category, achieved a wide international reputation and a strong appreciation by architectural critics and various public... not to mention its daily inhabitants and skateboarders all around the world.
Books published
Title
Author
Publisher
Year
ISBN
Country
TRANSFORMER
Wang Shaoqiang
Sandu Publishing
2010
9789881854469
China
ITALIAN Interior Design
Michelle Galindo
Braun Publishing
2010
9783037680315
Switzerland
UNPLUGGED ITALY tracce di architettura italiana
Gennaro Postiglione
LetteraVentidue Edizioni
2010
9788862420228
Italy
Re-use Architecture
Chris van Uffelen
Braun Publishing
2011
9783037680643
Switzerland
italiArchitettura vol. 4
Luigi Prestinenza Puglisi
UTET
2011
9788859805359
Italy
Total Office Design
Kerstin Zumstein, Helen Parton
Thames & Hudson
2011
9780500515860
United Kingdom
Out of the Box!
R. Klanten, K. Bolhöfer
Gestalten
2011
9783899553741
Germany
Detail in Contemporary Retail Design
Drew Plunkett, Olga Reid
Laurence King Publishing
2012
9781856697415
United Kingdom
Dettagli di architettura Contemporanea:
Retail Design
Drew Plunkett, Olga Reid
Logos Edizioni
2012
9788857600772
Italy
Magazines
| | | | | |
| --- | --- | --- | --- | --- |
| Title | Magazine | Issue n° | Date | Country |
| Un'arena nell'ex cinema per i ragazzi dello skate | La Repubblica | | October 28, 2008 | Italy |
| Un'arca sospesa | TSPORT | 266 | March/April 2009 | Italy |
| Due in uno | Interni Panorama | 53 | April 2009 | Italy |
| Flying in the Sky: Bastard Flagship Shop in Milan | id+c | 179 | July 2009 | China |
| Sk8er Tricks | Retail Space | 56 | August 2009 | Hong Kong |
| Bastard Store | MARU | 90 | September 2009 | Korea |
| Instant Atlas. A map of new Italian Architecture | Domus | 959 | October 2009 | Italy |
| bastard store, Milano | Monument Magazine | 94 | December 2009 | Australia |
| 100% under 40 | Costruire | 331 | December 2010 | Italy |
| El truco | Plot | 4 | June 2011 | Argentina |
| Bastardi senza gloria | Rolling Stone | 126 | April 2014 | Italy |
| Il gioco è lavoro | Style (Corriere della Sera) | 5 | May 2014 | Italy |
Past Events & Exhibits
Steve Van Doren and the Vans family - with Paul Van Doren, Bobo Vans, Hosoi, Pete Derick, Giorgio Zattoni, Ray Barbee, Geoff Rowley and Lizzie Armanto - 2 March 2019 [video]
Vans Shop Riot 10 Years opening party: Phil Hackett exhibition, Shop Riot photo exhibit, bowl sesh, John Cardiel's sound - 26 ottobre 2018 [photos on Thrasher]
Art of The Misfits and Wild Ones: Skateboard Stickers Exhibition - 18-30 June 2018 [18124]
Stazione Centrale - in-store preview screening of the new Jacopo Carozzi's videopart by Yoan Taillandier - 2 June 2018 [18110] [Thrasher's video]
Open House Milano 2018 - 5-6 May 2018 [OHM info page]
Legends' Sesh at bastard bowl - Pt. II - Tony Alva, Christian Hosoi, Steve Caballero and Giorgio Zattoni - 25 February 2018 [session video]
Le Chine di Clazio, Claudio Santoro's illustrations exhibition, 27 January - 10 February 2018 [17781]
Open House Milano - 13-14 May 2017 [OHM info page]
Attraper au vol: A photography exhibition by French Fred - 4-9 April 2017
Suicidal Tendencies Cyco Skate and Sign Session with "Living For Life" filming - 26 January 2017 [official video on YT]
The Fourth Phase global Milano di Red Bull Media House premiere - 2 October 2016
Filler Spring Edition 2016, convention devoted to illustration and D.I.Y. - 20-22 May 2016
Vans 50th Years Anniversary, celebration party for the first fifty years of the brand - 25 March 2016 [SHARE recap]
Dirty Day, rock, market and skateboarding - 28 February 2016
Filler Winter Edition 2015, convention devoted to illustration with more than 40 exhibitors - 11-13 December 2015
SB Chronicles Vol. 3: Nike SB video premiere - 5 December 2015 [SHARE recap video and photo]
Propeller: Vans skateboarding video premiere - 4 May 2015 [YT recap video]
Organized Chaos collaborative art/photo exhibit with Bryce Kanights and Chet Childress - 10 January 2015 [SHARE recap video]
20 Years of bastard Party - 7 November 2014 [a brief glance recap]
Octopus (DVP) & MayDay! (Videograss) snowboarding video premiere - 11 October 2014
The SHARE skateboarding Carnival Jam - 1 March 2014
Shadows (DVP) & The Last Ones (Videograss) snowboarding video premiere - 12 October 2013
The SHARE skateboarding premiere website launch - 19 January 2013 [15298]
Skate Legends at bastard bowl: Tony Alva, Christian Hosoi and Steve Caballero - 18 November 2012 [15116]
The Education Of Style film premiere with Tanner Hall, Henrik Harlaut and Phil Casabon - 3 October 2012 [14876]
Bruxismo: l'arte di Mattia Turco - 26-29 September 2012 [14775]
Outernet: Internet is outside - 29 September 2011 [12727]
WARNING: The Art of Marc McKee - 13 April 2011 [11080]
Lulu & Pirates - 2 December 2010 [9442]
Burn Skate Battle Video Premiere - 20 October 2010 [8647]
Luca Zamoc's la nebbia - 6 March 2010 [6476]
The Future of the Past: Rise Above artworks by Marcello Crescenzi - 29 October 2009 [4408]
Awards