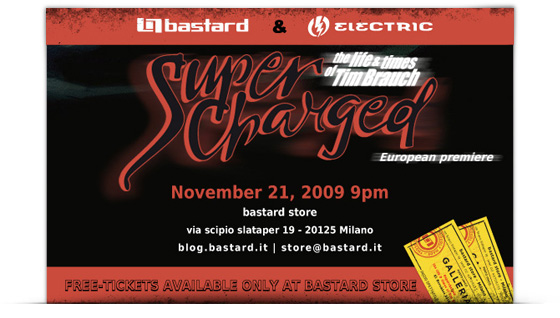 Saturday November, 21st 9pm
bastard store, via Scipio Slataper 19, Milan
Free admission with ticket.
Tickets available at bastard store, subject to seat availability.
On May 9, 1999 at the young age of 25, Tim passed away of sudden cardiac arrest. Tim was a professional skateboarder and an inspirational friend to all who met him. Tim had practically conquered the skating world and accomplished more than anyone thought possible. His Documentary is an inspiring in-depth documentary that celebrates the life of Tim Brauch. Composed by a community of friends and family, this film explores Tim's intriguing life. Learn the legend of Tim, who he was and why he became such a big role model for future generations.
More info: timbrauch.blogspot.com
Thanks to Diana Manfredi, who organized everything remotely from San Francisco along with director Pete Koff, as well as tech support from ID-Impronte Digitali, we're able to host the european premiere in Milano.
On saturday, November 21st we will enjoy the vision of this documentary sitting on the ex-cinema Istria gallery as we did for Underskatement.
After the screening, private skate session.
Invitations are available for free at the bastard store, starting today, so hurry before we run out of seats at bastard
Infos and reservation: store@bastard.it
The movie was off the hook, very inspirational story for sure. Tim was awesome and it's great that his legacy still lives on today, go see this film if you haven't already...It Rocks!

-Steve Caballero-