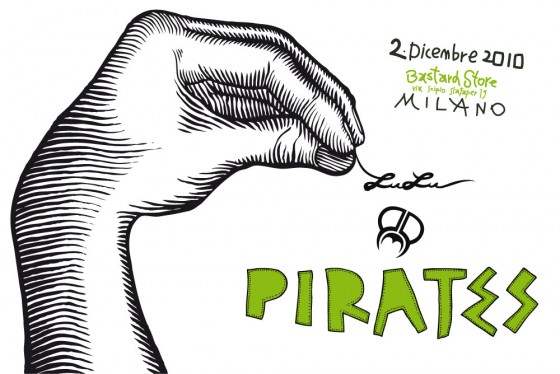 The artBook Hooked, by Pirate Movie Production, illustrates through drawings and pictures years of snowboard, trips and Isolation Camps.
For the first time in Italy at bastard store, an exhibition presented by Lukas Goller e Tobias "Ludschi" Ludescher.
It will open up on thursday December 2, from 6,30 PM, with beers and pretzels for everyone.
The Pirate Movie Production was founded by Basti Balser, Flo Eckhardt, Gigi Rüf and Tobias "Ludschi" Ludescher in the summer of 2002. "ShootYourFriends" was their first production and also it's main concept! Right from the start the typical PirateStyle occured by filming on an analogue format (Super 8 at that time) and integrating all animations with stop motion trick films.

The production has its base in Innsbruck (Austria) with its main focus on European Snowboarding and it's culture.

In 2005 the Pirates came out with a new concept by uprading the DVD with a 100 page artBook featuring all the other skills besides filming and riding. The concept was to let everybody in the crew design and collage their own page, without any limits. It increased the surface and playground for all the creative riders, photographers, filmers, musicians and artists that were part of the project.

Year after year the concept stayed the same, but the quality improved, new Pirates and friends joined and expanded the style and quality range of the book. Also the quality of the movies progressed over the years.

In 2007 the first artShows, featuring originals from the book and more works from the crew were shown in Barcelona and Paris. The goal was to bring alpine youth culture to urban in city people and exchange ideas, values and the stoke for our board sport.

Pirate's Art Director Tobias "Ludschi" Ludescher is the main man behind the book and it's network. He creates in various ways himself and takes care of the variaty in the book plus organizes the artShows and creative camps. Lukas Goller (Lu) has been involved in the art part since the beginning, but also had his riding shots in the film. He was animating intros for OVERSEAS (2008), illustrated various pages for the books and worked on other projects together with Ludschi (Lu) his former flat mate.
Now it's finally time for LuLu & thePirates to present their works to the public in Milano. Lukas and Ludschi will show group paintings, solo drawings and their favorite pages from the books.